Monday, September 22, 2008
I saw this over at
Knight's
and had to share it.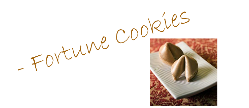 As told by

Fortune Cookies
at 11:36 AM

2 cookies cracked:
Malcolm said...

This was both funny and insightful. I was wondering where the clip was headed and then it all became clear. Thanks for sharing.

Knight said...

I'm glad it interested you as much as it did me. I just happened to have the IFC on when this video popped up. It's surprising me how many people don't seem to understand it.