Friday, May 30, 2008
Thursday, May 29, 2008
New York Gov. David Paterson told his state agencies that he wants them to begin recognizing same-sex marriages performed in states and countries where they are legal. Acording to a May 14th memo, he told state agencies to revise policies and regulations to recognize same-sex marriages performed in California and Massachusetts as well as Canada and other countries that allow gays and lesbians to marry.

This means that if I lived in New York, my marriage licence from Canada would be legally recognized. Wifey and I would no longer be second class citizens, unable to file taxes together, finally able to have our mortgage in both of our names. Finally able to have family insurance coverage rather than two single plans. I could go on and on, but you already know. It's rather trite at this point to continue to list the reasons over and over. I get so sick of hearing the hate spewing people say things like (using my best redneck voice here) "those gays want special rights, dammit". There's nothing special about wanting EQUALITY. We just want to be equal to our heterosexual counterparts. Enjoy the same benefits, rights, and liberties that they enjoy. No more, no less. Equality. That's what it's all about.
At this time, Connecticut, New Hampshire, New Jersey , and Vermont permit civil unions, and California, as we know, recently passed same-sex marriage. At this rate, who knows, maybe my children will see a world in which their mommies are free. Free to be married, share custody, have access to healthcare under eachother's plans, file taxes jointly, you know, all that stuff you heterosexuals take for granted. It could happen. We are living in the land of the FREE after all.
and, check out this little gem :

it says
"First comes love. Then comes marriage. And now it's a milestone every couple in California can celebrate."
Hooray for Macy's! They get it. Well, maybe they just understand that traditionally queers have the disposable income that our hetro-counterparts don't. You know, we don't have so many kids to feed and clothe and send to school so, there yah go. And in today's market, of course they are going to pander to those with extra cash to spend. Who wouldn't? But hell, they are surely going to loose some of their customers, you know the ones, "I ain't shoppin' at Macy's no more if they gonna cater to them queers"
Anywho - I wish I could get married all over again just to register with *sigh* Macy's, sweet wonderful Macy's! Ok, here's the deal-e-o on the Macy's registration. You get two drop down boxes, each one gives you a "bride"," groom", or "partner" option! Sweet. Right now, I so effin' HEART Macy's!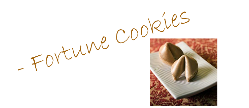 As told by

Fortune Cookies
at 9:21 AM
Cookies Cracked (10)
Links to this post

Wednesday, May 28, 2008
Monday, May 26, 2008
Friday, May 23, 2008
Wednesday, May 21, 2008
Tuesday, May 20, 2008
Friday, May 16, 2008
Thursday, May 15, 2008
Monday, May 12, 2008
Friday, May 9, 2008
Thursday, May 8, 2008
Tuesday, May 6, 2008
Friday, May 2, 2008