Sunday, January 25, 2009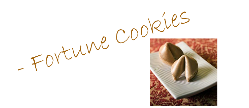 As told by

Fortune Cookies
at 10:04 PM

25 cookies cracked:
Beautiful!

That's gorgeous! Is it a painting?

I love the subtle yellow undertones.

What a beautiful painting

Lila and yellow, a wonderful combination!

this is so pretty! I really like it.

That is really interesting.

I did have to laugh at "oil on wood" maybe it is just me but my brain translated that as dirty. :/

I love dragonflies, there is just something so delicate, beautiful and evocative about them. Very pretty painting!

You are so creative. This is lovely. I visited your other site too and what an array of artwork you have produced. All so different from another too. Some I liked of course more than others. Judy Garland for example and then that townscape in the snow immidiately stroke me as something I would not mind having on my wall as focal points.

Oh I love it! One of your works?

very pretty! :)

What a lovely painting!

Very pretty!! Happy Mellow Yellow Monday to you:)

Lovely! The colors are great!

Very nice. I envy anyone who can draw or paint. I can't even draw stick people.

That is very pretty. I have to rely on the camera for my art. :0)

Very cool!

I played too :)

Awesome!! This must be so much more fun when creation is involved. I was at your other blog too, you are very talented :-)

Nice contribution to MWM. I like this blog.

Beautiful picture, though I must say my computer shows it as more an orange or red than yellow. Oh well, enjoyed it anyway. Have a wonderful week.

So beautiful!

I wish I could paint like that.
I have been reading your blog for awhile and you are really talented. I am kind of jealous! Anyway, I wanted to post a link to your blog on my site, would you be interested in a link exchange?
Check it out: Http://scottstipoftheday.blogspot.com

wow. that's truly awesomeness! love the colors and the color gradation in this composition! very nice! "i'd like to be a dragon fly on the wall within the Obama administration right now (lol)!" sorry, just popped into my head at the moment. :D

-Steve @ fluxlife

Beautiful!

I love the "I hated George Bush before it was cool" badge on your sidebar. I'm a member of that club!