Thursday, November 27, 2008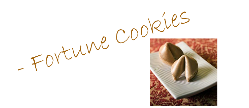 As told by

Fortune Cookies
at 7:20 AM

5 cookies cracked:
Ha!

Happy Turkey Day with the Wifester, my friend!

I'm thankful you're around.

Happy Thanksgiving!!

!!!!

Happy Thanksgiving to you and Wifester.

Seeing that turkey makes me think of the two headless, featherless, oven-ready chickens who danced in the video for Peter Gabriel's "Sledgehammer". Minus the bikini lines of course.